AWS Data Lake and Analytics – The fastest way to get
responses of all data for all users
Data Lake is a centralized repository that allows you to store all your structured and unstructured data at any scale. You can store your data as it is, without having to structure it first, and run different types of analytics, from dashboards and visualizations to big data processing, real-time analytics, and machine learning to drive better decisions.
The ability to harness more data, from more sources, in less time, and enable users to collaborate and analyze data in different ways leads to faster and better decision making.
The easiest to build data lake and analytics
Setting up and managing data lakes involves many time-consuming and manual tasks, such as loading, transforming, securing, and auditing data access. AWS Lake Formation automates many of those manual steps and reduces the time required to build a successful data lake from months to days.
Data volumes are growing exponentially, and so are the costs to store and analyze that data. AWS offers comprehensive tools to help control the cost of storing and analyzing all your data at scale, including features like Intelligent Tiering for data storage in S3.
We offer the broadest portfolio of purpose-built analytics tools so you can quickly gain insights from your data with the right tool for the job.
Secure infrastructure for analytics
Securing large volumes of data is one of the biggest challenges many organizations face. Beyond all the certifications and best practices you'd expect from AWS, we also have security features designed to help you comply with industry policies and regulations.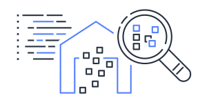 Data storage
Run complex analytical and SQL queries on structured and unstructured data in your data warehouse and data lake, without the need to migrate data.
Operational analysis
Search, analyze, filter, combine and visualize data in near real time to monitor applications, analyze logs and analyze click streams.
Real time analysis
Collect, process, and analyze streaming data, and upload data streams directly to your data lakes, data stores, and analytics services so you can respond in real time.
big data processing
Process large volumes of data quickly and easily in your data lake or on premises for data engineering, data science development, and collaboration purposes.