SAP BW/4HANA
Optimize processes and enable innovation with one trusted source for all insights and an intuitive user experience.
request a demo
What is SAP BW/4HANA?
SAP BW/4HANA is a packaged data warehouse based on SAP HANA. As the on-premise data warehouse layer of SAP's Business Technology Platform, it allows you to consolidate data across the enterprise to get a consistent, agreed-upon view of your data.

Streamline processes and support innovations with a single source for real-time insights. Based on SAP HANA, our next-generation data warehouse solution can help you capitalize on the full value of all your data from SAP applications or third-party solutions, as well as unstructured, geospatial, or Hadoop-based.
Simplify the provisioning of timely business insights
Transform data practices to gain the efficiency and agility to deploy live insights at scale, both on premise or in the cloud.
Capitalize on the full value of all your data
Drive digitization across all lines of business with a Big Data warehouse, while leveraging digital business platform solutions from SAP.
Innovate with one source for all insights
Maximize business adoption with advanced analytics, tailor applications to fit your needs, and reimagine your business with integrated machine learning.
Key Capabilities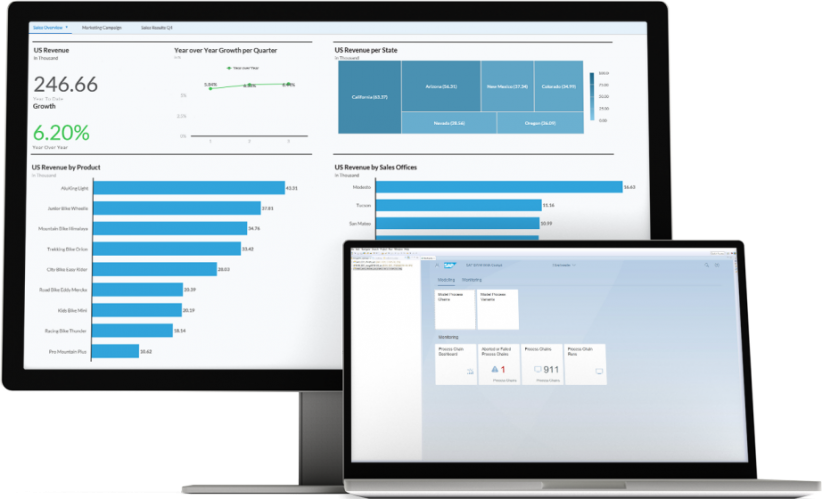 Improved user experience
Increase user productivity and reduce shadow analytics, while increasing user adoption thanks to an intuitive user experience and a modern interface.
High-volume, real-time data processing
Reduce wait time for data handling and enable intelligent automation, with high-volume data processing in real time.
Simplified modelling and administration
Speed up change requests and reduce implementation time, while reducing development spend with simplified modelling and administration features.
Integration with SAP and non-SAP applications
Connect to SAP and non-SAP applications and data sources to reduce costs for data integration; extract, transform, and load processes; and on premise infrastructure.
Do you have any questions?