Turn information into action
Tableau is business intelligence software that helps people see and understand their data.
Connect to your data and view it in minutes. Tableau is 10 to 100 times faster than other existing solutions.
Anyone can analyze data with Tableau's intuitive, drag-and-drop-based products. Information, without programming.
Big Data, all kinds of data
Spreadsheets, cloud services, databases, and Hadoop. Explore any type of data.
Combine multiple data views to get deeper insights. Best practices for data visualization are integrated.
Get the most up-to-date data with a real-time connection, or schedule automatic updates as often as you like.
Publish a dashboard in just a few clicks to share it in real time on the web and mobile devices.
Tableau helps people transform data into actionable information. Explore with unlimited visual analytics. Design dashboards and do ad hoc analysis with just a few clicks. Share your work with whoever you want and make a positive impact on your company. Multinationals, small businesses, and start-ups… Everyone uses Tableau to see and understand their data.
Why is data culture important?
Suddenly every company is a data company and most organizations are investing significant resources to collect, store and protect their data. But data and technology alone won't help you succeed. Success with data comes down to culture: how people actually use data and make decisions on a daily basis.
Only 8% of companies achieve analytics at scale.
To understand what separates successful data cultures ("data-leading organizations") from the rest, Tableau conducted a global study with market intelligence firm IDC, comprised of 1,100 responses in seven countries. The investigation showed:
Leading data organizations are 3 times better than their peers to find and connect with data.
The 89% of respondents from data-leading organizations were very/extremely satisfied with investments in data capabilities compared to the data-aware group.
The 81% of respondents from leading data organizations feel confident that they can get help with data and analytics when they need it.
It provides a visual and straightforward way to combine, shape, and cleanse data, as well as automate data preparation flows, helping you gain analysis and insights faster.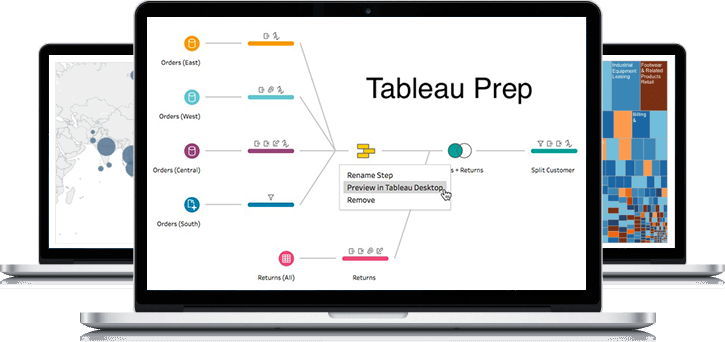 Get useful information quickly
Forget chart makers. With real-time visual analytics, data exploration knows no bounds. Interactive dashboards help you uncover hidden information instantly. Tableau takes advantage of people's natural ability to spot visual patterns quickly. It allows you to discover opportunities and experience eye-opening moments every day.
Data for everyone (with responsibility)
Spread the value of data throughout your organization with Tableau Server. Allow members of your organization to freely explore data in a trusted environment, not limited to predefined questions, wizards, or inflexible chart types. Rest easy knowing your data and analytics are accurate, governed, and protected. Tableau is easy to implement, easy to scale, and very reliable. In addition, it has a solid integration. For all this IT organizations love it. You no longer have to choose between empowering the business or protecting the data. With Tableau, you can finally do both.
Share and collaborate in the cloud
Tableau Online is a fully cloud-hosted analytics platform. Publish dashboards and share your discoveries with whoever you want. Invite colleagues and clients to explore hidden opportunities through interactive visualizations and accurate data. You can easily do all of this from a browser or mobile device with our mobile apps.