Automation of Analytical Processes

APA drives business and human results
The automation of analytical processes (APA) is the technology that enables everyone in your organization to easily share data, automate tedious and complex processes, and transform data into results. With Analytics Process Automation, everyone can discover predictive and prescriptive insights that drive quick wins and rapid returns on investment.
A single platform creating a single cloud
The convergence of data, processes and people
Analytics Process Automation marks the maturation of data and analytics software that previously used to consist of disparate markets, such as analytics, business intelligence, data science, and machine learning tools. APA converges three key pillars of automation and digital transformation to give rise to the democratization of data and analytics, the automation of business processes and continuing professional development of staff, in order to achieve quick successes y transformative results.
Today, the convergence of data, processes and people on a single platform is replacing the use of different tools in organizations. Modern platforms include all capabilities in a single, unified solution and enable organizations to achieve end-to-end automation through an agile and cost-effective approach. Instead of months or years between implementation and results, Analytics Process Automation drives transformative results in just weeks.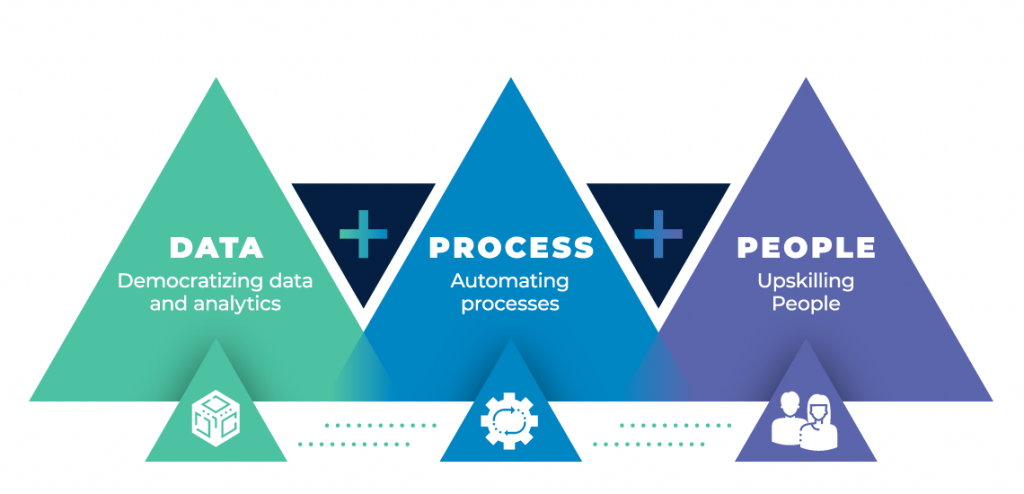 Repeatable workflows for self-service data analytics
Automate every step of analytics, including preparation, blending, reporting, prediction, analytics, and data science. Access any data source, file, application or data type and experience the simplicity and power of a self-service platform with over 260 drag-and-drop building blocks. Start creating interactive results today.
Centralized collaboration platform for analytics
Set up governed domains with the Alteryx Analytics Hub (AAH) centralized server environment. Control the publishing, cataloging, sharing, and governance of assets and analytics workflows. Easily scale, organize, search and track assets. Deploy in the cloud, on premises, or as a hybrid solution. AAH includes built-in scheduling and multi-tenancy.
Get to know all the benefits of Alteryx: Connect to multiple data sources, make transformations and learn to use the more than 200 functions of the platform.
Learn how to generate predictive models quickly and easily.